Handrail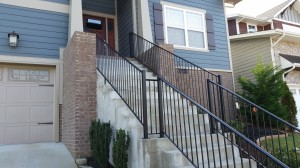 Titan Gate & Fence will custom build steel railing to the exact dimensions your job requires, so when it is installed it is a perfect fit. Custom built means custom designed, we have several designs we use regularly or you can create your own design.
There are many applications for our steel rails, here are a few examples:
- Handrail
- Porch Rail
- Balcony Rail
- Stair Rail
- Curved Belly Rail
The finish can be painted or powder coated in three standard colors black, white or bronze.
Other color options are available upon request.
Call (615) 895-0105 today to schedule an appointment for your free estimate. We answer our phone 24/7! So, call now!
Photos of Handrail & More:
Free Instant online estimate